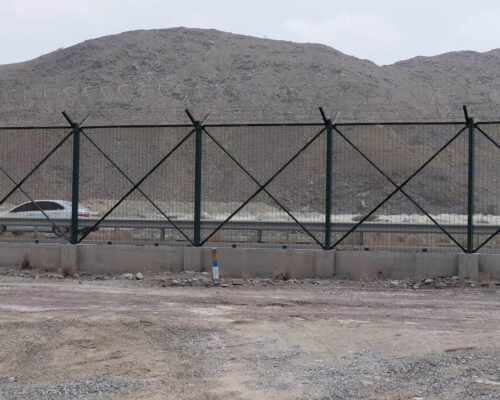 Best Manufacturer and Suppliers of Chain link Fencing UAE
We, at Metal and Machine, are pleased to offer you a diverse selection of
Chain Link Fencing in the UAE
. We provide you with high-quality, value-added products that have been meticulously processed and produced at our facility. Our skilled experts are available to create customized wire and mesh types to meet your project requirements. Our products meet the highest industry standards, making them appropriate for your every project.
When it comes to building materials, industry-grade metal, or chain link fencing solutions, you will hear Metal and Machine. When it comes to the best chain link fencing UAE, we only offer high-quality materials that have been precisely constructed, inspected, and safely delivered to your company.
Every member of our team is skilled and will guide you about chain link fencing solutions and customize your project's requirements accordingly. We provide solutions ranging from mesh to wire to meet your requests and needs. Also, during the manufacture or installation process, we never compromise on the quality of our products.
We have the best chain link fencing solutions for you if you're looking for them. Our company is fortunate to have a team of the best and most professional engineers that are the driving force behind our success. We are always happy to lend our hand to provide our clients with the finest possible answers!
Why choose Metal & Machine for Chain link fencing?
We are the leading manufacturers of fencing in the UAE. Our company makes all the raw materials for your fencing requirements. Our products are flexible, robust, long-lasting, and fabricated with utmost care. We have maintained a very high standard of the product we deliver.
We are one of the best fence manufacturers and exporters in the UAE.

We offer our clients with different types of fences like a chain link, welded mesh panels, and many others

Get a customized product for protecting your yards, villas, kennels, stables, farms, borders, etc.

We can easily customize the colour of the wire.

Get the guided instruction from the experts

Use of high-tech technology to design and joint different types of wire.

We also offer you cast aluminium, cast iron fence for road dividers, boundary walls, etc

Get your fence designed with Various heights & dimensions.

Get service for the installation process.
If you want to install temporary fencing in the UAE, you can get in touch with us. You can trust our experts to guide you with the best fencing options. Plus, our company also helps you in customizing any fencing colour, length, or any other specifications you like. Connect our team for your chain link fence requirements. Let us take care of all your fencing supplies.