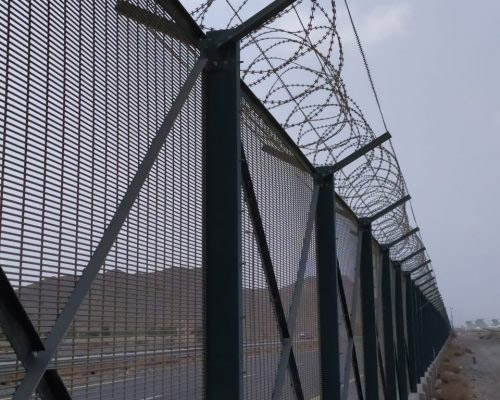 Get genuine security products to fence the construction sites: Weldmesh Fence in UAE
Metal and machine has established its name in the market by offering high-quality welded mesh fence we manufacturer in UAE to the customer. We provide our consumers with customizable service which means clients can ask our professional team to manufacture weldmesh fence of any size, colour, shape and dimension. Our main focus is to deliver quality products as per client preferences. Though our product is high on quality, we charge very minimal costs from our clients. All our products are reasonably priced.
What is Weldmesh fencing?
Weldmesh fencing we deal with in UAE is ideally accomplished to the surrounding for security purposes. It is made of steel wire which is welded at each intersection. This fencing system has many advantages over chain link fencing wire. Weldmesh is tougher than chain mesh that is why it is mainly used for security purposes.
There are several advantages of installing a welded fence system:
Used in the school and industry for security purposes.
Used for the preparation of animal cages.
Surrounds the construction sites to avoid unwanted incidents.
It is structured outside the house against the entry of thieves.
Easy and quick installation helps in temporary fencing for the event, celebrity shows to avoid the rush of the public.
Used in sports facilities that are suitable for artificial turf pitches (hockey, football, athletics, netball, tennis, etc.).
Besides this, if anyone is looking for Chain link fencing UAE then you can contact Metal and Machine for any kind of support. We provide all kinds of barrier fencing products to our customers. Keeping in mind that each customer has its own requirements, we deliver customized service that fulfills clients' expectations.