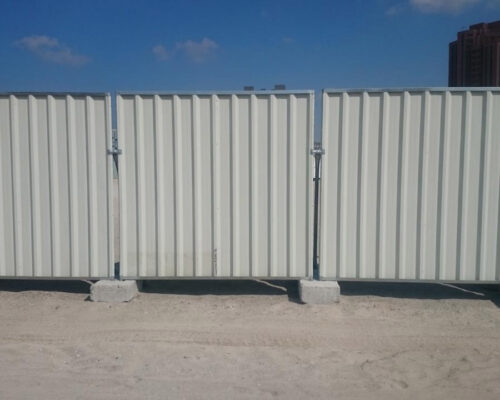 The Top Most Corrugated Fence & Temporary Metal Fencing Manufacturer Company in UAE
Metal & Machine is a very popular company for providing a classic and efficient Corrugated metal for the fencing panel. Among all other steel available in the market Galvanized steel is preferred the most. This type of steel is a top choice for fencing because it works well in all climate and resist rusting and even tolerates all climatic conditions. We deliver all types of stainless-steel metals if you need it for Temporary fencing Dubai.
Why CORRUGATED PANELS are important for fencing?
Corrugated panels are used in the construction panels that use a repeating wave (or corrugation) pattern in their design. As it is the best option for roofing and siding options, we manufacture a huge quantity of the product include Corrugated fence UAE to fulfill the needs of customers in the UAE.
Some of the Different Structural, Corrugated panels
3/4" Corrugated:
3/4 Corrugated panels can be the best option for the customer if they are looking to build a large project. We offer you different colors for the panels. So, this could be the affordable option to buy these metal products.
1/2″ Corrugated:
As per the industrial or commercial use client ask for the 1/2″ Corrugated panels for siding, wainscot and interior projects. This corrugated panel will make a subtle statement. We offer you a highly versatile 1/2″ Corrugated.
1/4″ Corrugated
One of the most significant uses of 1/4″ Corrugated metal panel is to balance exact lines and also provides noticeable variation to a flat surface. This panel is a perfect choice to dress up your gables, wainscots and shed roofs.
Apart from this, we are proud to supply metals for various projects of Fencing in UAE. We have a team of resourceful engineers who can help you with the installation and delivery of high-end products.