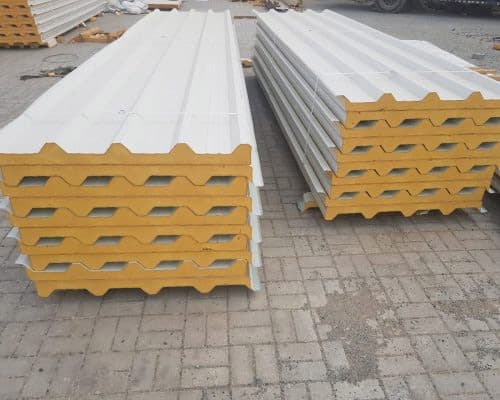 Get the Best Supplier of Sandwich Panel in UAE
Our company, Metal & Machine Management provides you with a variety of metal manufacturing, exporting, and supplying options. Our solutions are built by acquiring a thorough understanding of your needs as well as changing industrial requirements. You can choose from the best Sandwich Panels in UAE, such as trapezoidal sheets, corrugated steel, and metal roof tiles. Our custom sandwich panels can be used on both the roof and the walls.
Our clients know Metal & Machine is the best supplier when it comes to manufacturing, exporting, and supplying construction products! We not only manufacture and distribute building materials, but we also provide commercial sandwich panels in the UAE. Metal & Machine is one of the few firms in the UAE that offers completely customized sandwich panels to meet the needs of your projects.
We offer sandwich panels in a variety of materials, from industry-grade sheet material to metal, at an affordable price. We make sandwich panel for floors, walls, and even roofs, and deliver them safely to you. 
Our sandwich panel has a wide range of uses, particularly in the construction industry. Our panels may be used to create partitions, add insulation to your place, increase load-bearing capability, and much more. If you're not sure which sandwich panels are right for you, let us know what you're looking for and we'll make some recommendations by our experts. We offer sandwich panels at the lowest possible prices and also help you transport. At Metal & Machine, you can only expect high-quality products that will certainly satisfy your needs and help you in completing your project safely.
Common uses of sandwich panels:
It can be used in sections such as external walls, partition walls, and roofs.

Its lightweight property is meant for the construction and foundations of a building.

Excellent insulation properties.

Fire-resistant property helps in dealing with unsudden fire accidents.

Available in a wide range of coatings and colors that are used for various decorative purposes.

It uses a more load-bearing structure that enables the economical extension of the building.

Extends the load-bearing capacity of a building.
Sandwich panels are used for cladding the walls or roofs. If you are looking for products at reasonable prices, then Metal and Machine offer the latest design. Our goal is to fulfill all your demands on time. So, get in touch with our experts today.